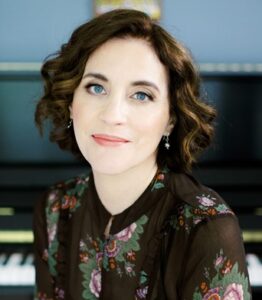 Sarah Hart is one of the leading figures in contemporary Catholic music today. Her songs of faith, spirit of joy, and love for teaching and leading workshops have touched the lives of thousands.  Originally from Lancaster, Ohio, and from a musical family, Sarah cut her teeth on the musical styles of Southeastern Ohio. She fell in love with both reading and writing poetry in college, and created her own degree in Music Theory and Contemporary Composition at The Ohio State University. Now based in Nashville, Tennessee, she's on the road a good part of the year helming concerts and events, while juggling a busy songwriting, production, and recording career.
Many of Sarah's songs are part of the common worship experience of Catholics in the US. To date, she has recorded twelve full-length recordings, exploring the confluence of faith and humanity. Her signature blend of folk, pop and rock delights listeners of every age. Sarah's most recent collection, "Love As Never Before", is an offering for the church of a complete mass, with four new titles, a psalm, and including the well-loved "Mass of St. Mary Magdalene".
Sarah's love for music and ministry intersect in amazing ways. Her dynamic energy, sense of humor and deep faith make her events unforgettable experiences. She especially enjoys exploring topics around women's spirituality and leading parish missions. Her heart for "small church" has taken her to amazing places. She has written and created five popular retreats, as well as content for intergenerational missions, diocesan conferences and national events.
In October of 2013, Sarah had the deep honor of performing for Pope Francis and a crowd of 150,000 in St. Peter's Square. It is one of her very favorite memories.
Sarah is a self-professed "Jane of all trades", and has a curriculum vitae that includes many types of work in the field of music. She is a Grammy Nominee and BMI Winner (Song of the Year, "Better Than A Hallelujah"), a Mark Award Winner for TV/Film Music Writing ("This Moment"), an ALA Odyssey Award Winner (Excellence in Audiobook Production, Score Writer, "Du Iz Tak") and an Audie Awards Nominee (Excellence in Audiobooks, Score Writer, "Say Something"). Her music has been recorded by many artists including Amy Grant, Celtic Women, Matt Maher, and The Newsboys.
But above everything, Sarah's very favorite "job" is being a wife, and a mother to her two daughters.