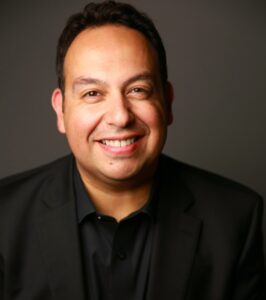 Patrick Zubiate is an accomplished singer, conductor, and educator who has served in music ministry in the archdiocese of Los Angeles for more than 20  years. His choirs have concertized in Austria, Czech Republic, Germany, Poland, Italy and Ireland.
He has also given workshops and directed music in the Diocese's of Orange and San Bernardino. He currently teaches in the choral music area of Chapman University's Hall-Musco Conservatory of Music.
Since 2002, he has been director of music for St. Denis Catholic Community in Southern California. For the archdiocese, he also serves as director of music for the San Gabriel Pastoral Region's Education Congress. He was recently elected the regional representative for the National Association of Pastoral Musicians.
An alumnus of Mater Dei High School in Orange County, CA., Prof. Zubiate holds a BM in Vocal Performance from Chapman University, MM in Choral Conducting from California State University Fullerton and is a doctoral candidate at the University of Iowa.
At the University of Iowa, he conducted the university's premier ensemble. He also served as Director Music for the Congregational Church of Christ of downtown Iowa City, conducting choral masterworks by J.S. Bach, Britten, Handel, Mozart, Saint-Saëns and Vivaldi. Zubiate was the conductor and music director for Old Capital Opera and Iowa City Concert Opera companies.
An established teacher, he has served as Director of Choral Activities at the high school level, where his choirs consistently received superior ratings at festival. He was the chorus master of California State University Fullerton Opera Theater, as well teaching assistant for the Vocalizze Youth Choral Festival in Lisbon, Portugal.
A trained singer, he has performed in contemporary, world and classical music genres. As a professional choral musician, he has performed in venues such as Walt Disney Concert Hall, Hollywood Bowl, Greek Theatre, Segerstrom Hall, Dallas Symphony Hall, Denver Center among others. He has sung for Disney Pictures, Warner Bros., FOX studios and has appeared in several television programs produced for PBS.
He has sung on recordings for GIA publications, World Library Publications and Oregon Catholic Press. He is an active member of the American Choral Director's Association, Chorus America and the National Pastoral Musicians Association.