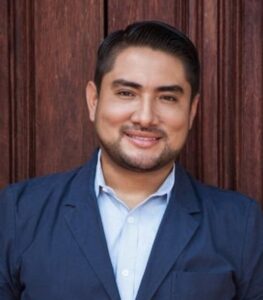 Born and raised in Colombia, Javier Iván Díaz is a musician, on-air personality and teacher who has been composing music since he was just 17. Holding a master of arts in choral conducting and bachelor of music, Iván began his college career at Pontificia Universidad Javeriana in Bogotá, Colombia. After moving to the US, he completed his degrees at Florida Atlantic University.
In addition to his role as Music Director at the St. Francis de Sales Church in Miami Beach, Fla., Iván is the NCYC chorus director, NCCYM Music director and high school choral director. He released his first album with OCP in 2014, Honor y Gloria a Él, a contemporary Spanish-language collection. His songs and arrangements are also included in several collections from OCP, including Bendito, Bendito, a Spanish-language contemporary album with songs for adoration and Entre Tus Manos, a collection of songs for prayer and healing. His latest release is Nuestra Alegría/Our Joy, a collection of Spanish and bilingual versions of iconic Catholic songs.
The song "Nuestra Alegria/Our Joy" was chosen as the official youth and young adult song for the V Encuentro. He has appeared on EWTN and the Jesus Christ Network. When composing "Aquí Estoy/Here I Am," for World Youth Day Panama 2019 with Fr. Rob Galea, Iván successfully managed to add new rhythms and make worship songs accessible to younger generations and to both English and Spanish speakers. During WYD Panama 2019, he participated in several events, concerts and catechetical sites.
Iván is involved in diocesan youth conventions, Hispanic charismatic conventions, music workshops and other events across the US and abroad. Currently, he lives in Miami, Florida, where he serves as director of music at Saint Francis de Sales Catholic Church and Director of Choral Activities at West Broward High School.