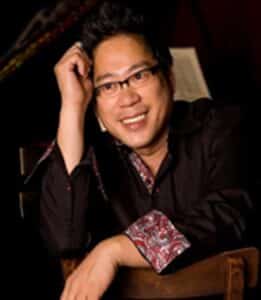 Nové Deypalan is an educator, prolific conductor, published composer, an effective clinician, and visionary leader. Nové hails from the small town of Victorias, Negros Occidental, Philippines. His higher education began at the College of Music, University of the Philippines, and continued in the United States. He completed his Bachelor of Music in Conducting Performance at Chapman University in Orange, California. He obtained a Master of Music in Choral Music, magna cum laude from the University of Southern California. Deypalan received the Doctor of Musical Arts in Orchestral Conducting at the University of South Carolina.
Dr. Deypalan is recognized as an award-winning conductor in the US and Europe. He received the Special Commendation Award in conducting competition in London with the London Classical Soloists in January 2016. In February 2014, Deypalan was a Prize Winner and awarded the Highest Distinction in the International Masterclass "Conducting Tchaikovsky" with the St. Petersburg Chamber Philharmonic in Russia. He was a two-time winner of the International Conductors Workshop and Competition in Georgia, USA in 2012 and 2013. In February 2012, he premiered Fang Man's "Dream of a Hundred Flowers" at Carnegie Hall in New York. Deypalan has led his ensembles in repeat performances at Carnegie Hall, command performances for St. John Paul II and Pope Benedict XVI at the Vatican. He has conducted symphony orchestras in public performance and workshop settings such as, The Berlin Sinfonietta in Germany, Filharmonie Bohuslav Martinů in Czech Republic, Festival Orchestra in Santa Cruz, California, Gwinnett Symphony Orchestra in Georgia, The London Conducting Workshop Orchestra at the Royal Academy in London. He has served as clinician in both vocal and instrumental ensembles in Spain, Norway, Philippines, and the United States.
In addition, Deypalan is a published composer and entrepreneur. In June 2008, he conducted the world premiere of his original composition, Libera Me for solo baritone, chorus and orchestra at Pasadena City College. His compositions are managed by Alliance Publishing Incorporated. He is the Founder of The Walnut Valley Symphony Orchestra & Master Chorale. He serves as the CEO of MUSIKATO INTERNATIONAL, a talent agency, Music Producer & Publishing Company, and The Los Angeles Conducting Institute.